Make the most of thermal stores
The thermal store is at the heart of the modern renewable energy system, taking the heat generated by the various elements of the system and storing it for you to use throughout the day.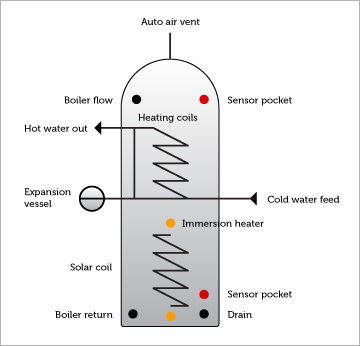 Thermal stores are most obviously compared to the typical hot water cylinder, but there are differences in how the two function.
The standard hot water cylinder takes the potable or drinkable cold water supply and heats it up in the tank, before it is released when the hot water tap is turned on or the central heating is activated. It then replenishes the tank with cold water, which is then heated up again.
Thermal stores are different because they don't directly store and heat the potable water supply. Instead they take water from any number of available heat sources: solar panels, a biomass boiler, even an AGA or Rayburn stove, or a traditional gas boiler. The hot water in the thermal store passes through a heat exchanger, where it meets, but never comes into direct contact with, the potable cold water supply. The newly heated potable supply then goes straight to the hot tap or heating system.
The great thing about thermal stores is that you can still use a traditional immersion heater as a back up. All in all, a thermal store offers incredible flexiblilty for all types of energy systems. Just give us a call if you want to know more.
Thermal stores have several advantages:
They provide mains pressure hot water
You get instant heat for space heating
Multiple hot water outlets can be used simultaneaously
There's no waiting for the tank to heat up again after it's been emptied (after a deep bath)
They make the best use of all available heat sources
They make really efficient use of boilers - no boiler cycling
There's will be no limescale build up in the cylinder
No risk of Legionella disease as mains hot water is not being stored
Potable (drinkable) hot water
For more information request a free survey, call us today on 0800 044 3045. We're Leeds based and cover Leeds, West, North and South Yorkshire.