Stylish and clean – wood burning stoves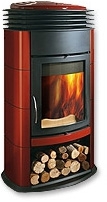 Burning wood is an age-old method of heating, but opting for tradition doesn't mean you're settling for old fashioned. Modern wood burning stoves have come a long way from the choking open fire. These days, wood burning appliances are very clean, and will add style and character to your home. Above all, you'll retain the beautiful feel of a real open fireplace, so lacking with an artificial gas fireplace.
We're not just limited to wood burning stoves! Speak to us about a host of wood burning appliances, including traditional black iron stoves, contemporary feature fires and beautiful range style cookers. You can reach us on 0800 044 3045.
A new way with boilers – biomass fuel
There's now another way to heat your home's water. You're no longer tied to the traditional gas central heating boiler. Have you considered a combined fuel model that will run on logs, wood chip or wood pellets? From back boilers, to a water jacket on a room model, to dedicated wood gasification boilers – we've got the whole set.
Reliability from a registered HETAS company
Installations of solid fuel and wood biomass appliances and systems are subject to the requirements of Building Regulations and are notifiable to the Local Authority in your area by law. But the good news is that here at ECO Powered, we're HETAS registered, meaning we can self-certify our work. So you won't be drawn through costly and time-consuming applications to the local Building Control Department.
Quality and experience from ECO Powered
Installation of boiler model appliances requires HETAS certification as well as vast experience of domestic plumbing – not something you'll find very often, although you will with ECO Powered. That means we're a great choice for the installation of your wood stove or boiler, whether you buy one from us or simply want us to fit your own.
Naturally, all installations come with a chimney data plate and HETAS certification.